Digital Banking
Whether you're home, at work or on the road, CU1 is here for you 24/7. With personalized tools, you decide when and how you want to interact with us.

Bill Pay
With Bill Pay, you can say goodbye to postage costs and the worry of whether you remembered to pay your bills on time! Credit Union 1's Bill Pay service is FREE for anyone with a Super Saver or Premium Spending account and just $4.95 a month for an individual member. Businesses can access Bill Pay as well for $9.95 a month.
To save you even more money, a monthly fee is only assessed if Bill Pay is used during that month.

Digital Wallet
Did you know that if you carry an Apple®, Android®, or Samsung® device, you have the luxury of a "digital wallet" built right into your phone or smart device? This app-based wallet allows you to enter your CU1 credit or debit card details in just a few quick taps.
Your card information is then securely stored so you can make purchases straight from your phone at over a million nationwide locations. In any store where you see an Apple, Android or Samsung Pay logo at the register, open your digital wallet and pay with a quick scan of your phone.
Shopping In-Store & In-App
Your digital wallet is supported on devices using iOS 8.0 and above. Pay quickly and securely with the added time-saver of Touch ID.
Your digital wallet is supported on devices using Android 5.0 and above. Pay with ease anywhere the contactless pay symbol appears.
When using your Samsung device, simply swipe up to launch the app, use your fingerprint to authenticate your access and hold your device over the card reader at checkout to pay!

Automated Payments
Never forget your loan payment again. With our automated payment service, you can schedule an automatic transfer of funds that recurs each month!
To get started, visit Move Money > Transfers > Scheduled in Online Access.

eDocuments
Enjoy secure and organized access to CU1 documents such as your monthly statement, tax information and additional letters of communication that you would normally receive from CU1 via paper mail - such as overdraft notices, password change confirmations, certificate maturity notices and more.
To sign-up, log in to Online Access and visit Success Tools > eDocuments.

Alerts & Notifications
Stay up-to-date on the status of your account with customizable alerts. You can choose to receive an email, text message or push notification when your account reaches a certain balance, a direct deposit is received, a loan payment is due, etc.
Log in to Online Access and click Control Panel > Notifications and Alerts to sign up.

Bank from Anywhere
Sign up for CU1's Online Access and download the CU1 Mobile App to access your accounts wherever your next adventure takes you.

With Online Access and the CU1 Mobile App, you can access your accounts online or through your phone.
Check account balances
Monitor your credit score
Send or deposit money from your phone
Pay bills anywhere
Transfer funds on the spot
Locate the nearest branch or ATM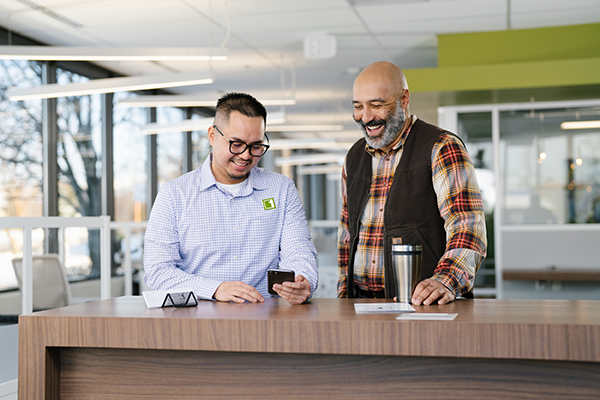 Apple, Apple Pay, Apple Watch, the Apple logo, and iPhone are trademarks of Apple Inc., registered in the U.S. and other countries. Android and the Android Logo are trademarks of Google Inc. The Android Robot is reproduced or modified from work created and shared by Google and used according to terms described in the Creative Commons 3.0 Attribution License. Samsung and Samsung Pay are registered trademarks of Samsung Electronics Co., Ltd. Mastercard® is a registered trademark of Mastercard International Incorporated.